Et oui, en faisant un tour chez Emmaüs à Agen, j'ai trouvé une vieille machine à coudre Singer, avec une pédale mécanique ! 10 euros !! sisi !! Alors bien sûr, je ne sais pas si elle pourra fonctionner. Mais là n'est pas la question. En fait, je voudrais utiliser la table pour y poser ma nouvelle machine à coudre, pour faire comme ma maman ;-). Bon le pied aura peut être besoin d'un coup de peinture, et le plateau est à changer (d'ailleurs, celui de la photo est resté dans la campagne d'Agen), mais c'était une affaire. Il faudra maintenant que je fasse une belle housse pour ma machine, genre en lin pour rester un peu dans le même style !
This is what I just bought : a very old sewing machine with its table. I plan to use it to put my new sewing machine on it.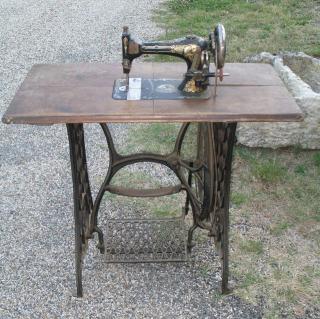 Bon ce que j'oublie de dire, c'est qu'il est aussi question d'en faire une vraie table, avec rallonge, etc… Mais bon, à la base, je l'ai quand même achetée pour y poser ma machine !
Myabe we will use it as an ordinnary table, but it was so cheap (10 euros) that I couldn't resist !