Oh rage , Oh désespoir. J'étais en train de coudre la fermeture éclair d'un patalon trop funky : c'est à dire un pantalon noir, et là c'est la drame. Plus de fil dans ma cannette. Et là, mon regard se lève vers ma bobine de fil. Quasiment vide !!! Nooonnn !! J'étais motivée et tout et tout par cette fermeture éclair, mais les éléments étaient contre moi.
Je me dis, c'est pas grave, je vais tricoter. Un nouveau tricot à commencer (d'ailleurs, faut que je prenne en photo celui que je viens de terminer). Je me plonge donc dans les explications du fameux Juliet.
I was sewing the zip of so funky black trousers, and suddenly, no more thread !!! ahhhhh noooo !!!
So I decided to knit the well known Juliet jersey.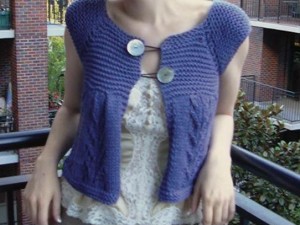 Oui, faut se plonger car c'est compliqué. Et oui, c'est en anglais. Pas vraiment un problème pour moi (oué je me la pète), mais il y a des tas d'abréviations qui forcent à revenir au début des explications pour comprendre… Super ! En plus, normalement, faut le faire avec une aiguille circulaire, que je n'ai pas, bien sûr ! Enfin, on avait vu, avec la très sympa vendeuse du Phildar Printemps Nation, qu'il devait peut-être être possible de faire sans. Alors, je vais essayer. Sinon, j'irai en acheter une demain avec mon fil noir !
The instructions are in english. It's not really a problem, except that there are a lot of abbreviations. So it's difficult to understand. Furthermore, I need a circular needle, that I don't have. I'll try without, and if it does'nt work, I'll buy one tomorrow, with my black thread !
Edit du mercredi :
C'était dimanche soir. Le lundi, les merceries de Vincennes sont fermées. La boutique singer est en vacances. Et pas de fil noir dans les monoprix non plus (et pourtant ils ont toutes les autres couleurs !).
Bref, je n'ai pu acheter mon fil qu'hier, mardi. Mais maintenant, comme j'ai commencé mon Juliet, j'ai plus envie de le lâcher ;-).