Bon, comme je l'ai déjà dit, je suis aux Etats-Unis cette semaine pour le boulot. Et je n'ai pas eu le temps de coudre mon dernier pull :-(. Mais j'ai quand même eu le temps de faire les boutons.
As I said, I'm in USA this week for work. And before I left, I didn't have time to se my last jersey 🙁 But I had time to make the buttons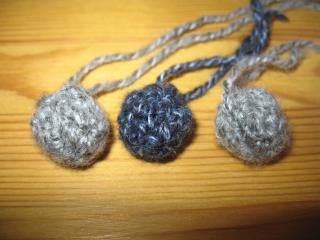 J'ai un peu fait à ma façon. J'ai fait au crochet des disques. j'ai ensuite passé un fil sur le pourtour et j'ai serré, tout simplement. A l'intérieur, ce sont des boutons que j'avais en stock. J'en ai un petit paquet, donc je pouvais en sacrifier 3. Ils viennent d'une amie de mes parents qui travaille dans un atelier de confection (et oui, il y a encore quelques ateliers de confection en France. Ils ne sont pas tous en Asie).
Here are the small buttons inside.