Vous aviez voté en majorité pour la blouse : la voilà !!
C'est donc un Patron H&M issu du Patrones du mois de Mars 2008. Il était très discret, car bien que ce soit le premier patron du magazine, il est porté sous une robe.
Grâce à cette blouse, j'ai appris à faire des fonces (oui, c'est pas compliqué mais je n'en avais famais fait). Pour ce qui est de la patte de boutonnage, j'ai fait comme j'ai pu. Les explications sont en espagnol et très courtes, donc ça ne m'a pas trop aidé. Le résultat final est bon, mais il ne vaut mieux pas regarder à l'intérieur 😉
You voted for the blouse, and I follow you.
The pattern is from Patrones of March 2008. It's a H&M pattern.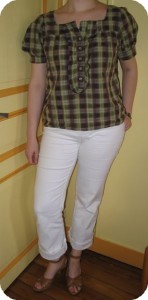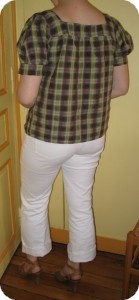 Je la porte ici avec un jean blanc Kookai acheté au magasin d'usine pendant mes années d'études à Troyes et des sandales Unisa acheté sur Ebay. Et oui, j'achète assez rarement les choses au prix fort. Je crois que c'est génétique, n'est-ce pas Maman ? n'est-ce pas Hélène ?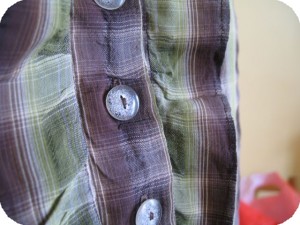 Gros plan sur les boutons, acheté chez Ch'ti bouton. Et oui, encore du soldé 😉